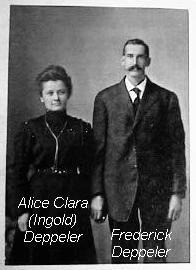 This site has been created, by Deb Deppeler, for just for fun and information exchange regarding the genealogy of the Deppeler families in Wisconsin. Deb's great-grandfather Fred Deppeler emigrated to Wisconsin in 1905 when he was 28 years old, from Tegerfelden, a small village in the canton Aargau, near Aarau, Switzerland. He married Alice Ingold. Click here to view their family photo.
There are only a handful of Deppelers in Wisconsin, but we are meeting more Deppelers elsewhere (some via the Internet) everyday. Here's a reunion photo from 1974, I think... In 1996, Margreth Rhoehner Deppeler (center of photo) visited Albert (far right) and Marion Deppeler in Monroe, Wisconsin.
In July 1986, I travelled to Europe to work in Finland for the summer as part of an American-Scandinavian Forestry exchange program. On my return home, I made a detour to Zurich, Switzerland and contacted my dad's second cousin, Peter Deppeler. Peter directed me to take a bus to Tegerfelden where he met me at the bus. I visited with him and his friend Andre at their home and met his mother, Lorelei Hegnauer Deppeler. Lorelei was first cousins with my grand-father, Frederich Walter Deppeler.
In 1997, I tried registering deppeler.com and found it and deppeler.org already taken. So, I registered deppeler.net. Around that same time, Elaine Deppeler of Geelong, Australia, contacted me via geocities.com. We never found a definitive relationship connection between us, but Elaine connected me with Harry Deppeler of Zurich, Switzerland and Olga /Deppeler/ and Gordon Sherwood, also from Australia. This was a wonderful connection as Gordon and Olga had compiled a substantial genealogy database including information on Deppelers from Tegerfelden. Between, Harry in Switzerland and the Australian connection, I now have names and dates for many if not most of my Deppeler ancestors.
In Spring 1999, Harry Deppeler and Renate visited Wisconsin. They stayed with James and Donna Deppeler (my parents) in Windsor and visited Fred and Helen Deppeler (my grand-parents) in Brodhead and Albert and Marion Deppeler (Fred's brother and sister-in-law) in Monroe, Wisconsin. Gordon and Olga also visited around that time, but not at the same time. Lots of fun getting to meet and share information, but we were unable to find a concrete connection between us and Australia. Harry has data that shows that he and James (my father) would be sixth cousins.
In May 2005, Lynne and I visited Switzerland, Italy, Denmark, and Germany. We stayed with Harry and Renate while we were in Zurich, where they were wonderful tour guides and helped us visit Lorelei in Tegerfelden. Lorelei sent us home with some Deppeler wine and were able to deliver some cheese and a cutting board from Albert to her. On another day of that visit, Lynne and I took a bus on our own to Tegerfelden and to Wettingen to visit Margarethe /Rohner/ Deppeler. We met Margarethe and went to a local cafe where a kind waiter helped translate for us. In Tegerfelden, we walked about taking pictures of the country-side and church and also a Deppeler van that appeared to be a delivery truck of some type. The driver smiled at seeing me take his van's photo and then showing him my driver's license. At the church, we met Klara Deppeler, who showed us around the church and cemetary despite us not speaking Swiss or German and her not speaking English. My driver's license helped, but we were unable to know if we were related in any way.
Jan 2012, I received an email from Denise Kohler, who told of her great-grandfather Johannes Deppeler leaving Tegerfelden and going to America. We believe that Johannes was the older brother of my great-grandfather Frederich Deppeler. Johannes left a wife and four children in Switzerland and at one time lived in Monticello, Illinois, even writing home about his younger brother Fred and his family. I now have a scanned copy of that letter and a photo of the family he left behind. Hopefully, Denise and I can meet this coming spring when she visits.
Other Deppeler's around the world.
Be sure to stop by these sites too as we try to figure out our respective family's relationships.
Harald Deppeler Switzerland (Dec 1997). Deb and Harry are 6th cousins once removed, according to our family tree records.
Elaine Deppeler Geelong, Australia (Nov 1997). We haven't found the complete family tree to link Elaine to Deb and the other Wisconsin Deppelers. Do you know of any?
---
Deppeler Genealogy
Descendants of Fred Deppeler 1876
Fred and Alice's descendants are no longer located only in Wisconsin and many have married and changed their names. Check out our family tree. Sorry, I've had to remove birth dates of living persons to reduce the opportunity for identity theft.